Camera Dollars System Review
By Jelena Francic, Special Products Analyst for WorkAtHomeTruth
he Camera Dollars System consists of two e-books, plus bonuses. Their quality differs by a wide margin, which made it very difficult for me to write this review. Overall, it has some value and may be useful to someone looking to make money using his/her camera.
Let's take a look at those books one by one:
UPDATE: Camera Dollars is NO LONGER AVAILABLE
Camera Dollars has been taken off the market and is NO LONGER AVAILABLE.

I've left the original review of Camera Dollars up for historical purposes.
Camera Dollars - Part One
I am not too enthusiastic about the first part.
It offers some photography tips and techniques in brief which is useful only to a skilled photographer as a quick reminder. A newbie will get lost and will not learn much.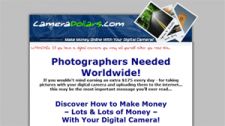 Most of the book focuses on creating some kind of a "system" to sell photos and earn money, though I still do not see what the "system" is.
I like the diversity of offline photo sale ideas, but I guess most people will not be able to attend weddings and sporting events to take and sell pictures. Even if someone tries, there is a fat chance he/she will not be allowed to enter the event.
The book lists stock photo websites, where you upload your photos for sale. This is a good way to go. Once you upload a photo and the site staff approves it, your future revenue from it will be totally passive. This means you do not have to lift a finger and your photos will sell themselves. This is in theory, of course. In reality, even virtual one, you will have to research on what sells best and you will have to improve you photography skills and equipment up to at least semi-professional level. I made a small experiment: I uploaded two dozen of my photos to one of the more popular stock photo websites. Some of them were rejected and I ended up with exactly 17 photos for sale. A year later, 4 of those photos were sold, one time each, and I earned $3.50 total. Of course, this can be multiplied by submitting more photos to more stock photo websites. Still, the list given in this book could easily be generated with any search engine for free.
There are also two lists I do not like:
List of companies that hire field service photographers - inspection, insurance companies, etc.
List with a fancy name: direct sale sites - this is actually a list of real estate and travel companies that buy photographs directly from photographers.
I do not recommend using those two lists because, from my experience, cold calling rarely works. You will send your CV and portfolio to numerous companies and probably will not receive many replies. It is very likely that each one of those companies already has a photographer of their own and they are not looking for a new one; or perhaps they buy their photos at stock photo websites. Besides that, cold calling makes you look desperate for work, and nobody will hire a desperate person. It is much better to let the job come to you by creating a profile at one of the websites for freelancers, or apply to legitimate job ads on those websites. It will take more time to build a carrier this way, but nothing comes over night. One of the freelancer websites is mentioned in the book, but I think there should be more of it.
This book also covers some legal aspects of photography work, like model/property releases, copyright and what is legal to shoot, which is very useful for a newbie. However, it could use some more details and explanations.
Camera Dollars System - Part 2
My first thought when I read the introductory chapters of this book was "Slightly off topic". After reading all of it I still think so, but being off topic does not mean being useless in this case. On the contrary - this book offers a system (finally - a "system"!) on really making money with your camera. The off topic part is that it has less to do with Cameras and more with Dollars.
The idea of the book is in becoming a "vehicle marketer" or "listing agent". Those mysterious names stand for a person who sells vehicles at e-Bay instead of lazy vehicle owners.
This means you will spot a prospect (vehicle owner looking to sell it), approach him/her and offer your services. Most people are too busy to take pictures and create a proper e-Bay listing and will be happy to have you do it instead of them.
The next step is contract signing. This is where the Camera Dollars book comes handy - it offers a template of "Motor Vehicle Consignment Agreement" which you can use. It is a nifty little document where the vehicle owner allows you to keep all the profit above the agreed limit. That means you are able to earn enormous amounts per sale, if you have the skill and the guts.
The rest of the work is explained in details: how to clean a vehicle before photo session, how to choose time of the day, light and location, how to shoot it and, finally, how to make a killer e-Bay listing. The auction part of the process is also covered with lots of useful details, tips and strategies.
Once the vehicle is sold, your work will not be over. You will be the one to communicate the buyer, process the payment, do the paperwork and organize the vehicle shipping. Camera Dollars Book offers help with this, too.
To conclude: if you have a passion for cars - this is the right kind of work for you. It is necessary to have the knowledge of cars, understanding of the market and to be able to tell the price as soon as you see a car. You must also be a great seller - first to sell your services to vehicle owners and then to sell their vehicle for the best price. You must be well organized and internet-savvy and, above all, you must have the mind of a true salesperson.
If you have all of those characteristics, you should go for it. The Camera Dollars Book will provide you with everything else you might need in becoming a successful vehicle marketer.
Camera Dollars Bonuses
Photography - Other Ways to Make Money
Slightly outdated but still useful guide on different ways to earn money using your camera, including weddings, portraits, cards, newspapers, etc.
Easy Writing Biz e-Book
More than a hundred pages of detailed explanations and useful tips on many aspects of freelance writing. If you like writing and have at least a bit of a talent, this bonus book might become very important to you.
Basic Photography Guide for Newbie
This one is so outdated it is not even worth opening. Perhaps if you want to know how it worked in the ancient times of switching to...
MySpace Profiles for Profits
A short book on combining network marketing and social networking. By the way, marketing with the intention of profiting is against MySpace "Terms of Service". Didn't expect much more from guys who call themselves Mr. Blue and Mr. Black.
Camera Dollars Conclusion
All of the books need some serious proofreading and formatting, but if you focus on the content, you will find some true value. If you like photography and cars, and if you feel like a salesperson, the Camera Dollars System is just your kind of book. In addition, it might become a good investment and start you off in your new carreer.
Click here to learn about the Camera Dollars money making systems