Profit Masters Academy is the new name for a scam that I've warned people about numerous times here. It's gone by several names, including the following:
Home Profit Masters
Online Profit Masters
Income Masters Institute
I previously busted Home Profit Masters for using testimonials from an old FTC complaint. You can see that in the video below:
While the Profit Masters Academy site has removed the offending testimonials, it still has numerous problems.
The Most Blatant Problems With Profit Masters Academy:
Problem #1) Katie Smith Is A Stock Photo
Katie Smith is not only is a stock photo, but is also the same stock photo used for another highly questionable opportunity called "Paid To Place" – in that opportunity the name used for her is Kathy Garcia.
Click here to see a watermarked image of "Katie Smith" at the INMAGINE stock photo site
Problem #2) Testimonials are using stock photos.
Many of the testimonials being used on Profit Masters Academy are using stock photos.
Click here to see "Phil J." at iStockPhoto.
Click here to see "Robert M." at the F1 Online Stock Photo Site
Click here to see "Will C." at iStockPhoto
Problem #3) Order Form Appears To Be A Fake Plimus Order Form
The order form for Profit Masters Academy appears to be a fake Plimus order form. Plimus is a third party payment processor that not long ago banned all Internet marketing and business opportunity products from their marketplace. I also searched the Plimus marketplace and couldn't find Profit Masters Academy listed.
If it's true that the order form for Profit Masters Academy is faked, then the security seals are also meaningless since they are for Plimus and NOT for Profit Masters Academy – that means that they are meaningless when it comes to the security of the Profit Masters Academy order page.
Problem #4) Bizarre Claim Of "Link Partners"
Profit Masters Academy makes the bizarre and ridiculous claims that it is "Link Partners" with Google, Bing, & Ask. Unfortunately, this is completely made up as "Google", "Bing", and "Ask" don't have "Link Partners".
Problem #5) Free Consultation With A "Success Advisor"
This is a typical tactic used by companies such as Profit Masters Academy to try to get you to speak with a high pressure sales person who will try to extract as much money as possible from you.
Here's what will happen to you when you take your "free consultation":
When you make the "get started" call, you'll get a front-line phone person who will have someone (an expert) call you back. That person will say that they are pre-qualifying to make sure you're a good candidate. What they are really doing is trying to figure out how much money and credit you have available. As long as you have either cash or credit available – your a candidate!
You'll then talk with another sales person who will offer you "training" and/or "services" based on the amount of cash or credit you have available – usually costing anywhere from $5,000 to $15,000.
If you decline or are even hesititant, they'll likely call you relentlessly for several weeks often switching phone numbers or "blocking" their numbers so you can't see who's calling on Caller Id.
Often you'll be made outrageous promises of income when talking to the sales people that are NOT included in the final contract you sign. This makes it incredibly difficult for you to dispute the the "coaching/training/servcies" charges with your credit card company.
Problem #6) Profit Masters Academy is using Angela Bussio as their spokesperson
Angela Bussio was used as the spokesperson for the Home Profit Masters work at home program that I warned about that generated a substantial number of complaints.
Problem #7) Site appears to be associated with Home Profit Masters, Income Masters Institute, & Online Profit Masters.
One of the people behind those sites was the subject of the following Government Action: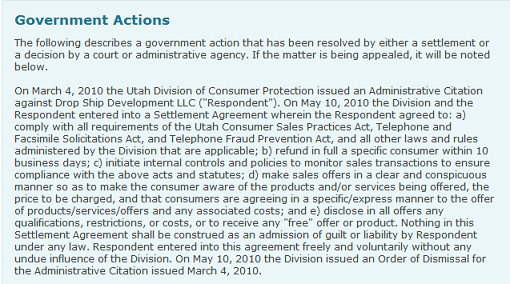 Problem #8) Profit Masters Academy Claims you can make money simply "placing links"
Link posting scams became big starting around 2008 and have been scamming people out of their hard earned money ever since. They typically use ridiculous language such as:
"That's it! Follow these three easy steps and you're done! To fill out one link took you 1 to 2 minutes and, you just made $15 dollars! Do this over and over again, as much as you want, to make all the money you want! Process 5 links for $75 a day… 15 links for $225 a day… 30 links for $450 day…or more! To put it another way…"
Unfortunately, this is all nonsense. In fact, this type of language is based on one of the oldest scams around – the envelope stuffing scam.
If You're Struggling to Make Money Online Click Here to Get Answers to All of Your Questions About Making Money Online.